Events sponsored by Decoding Dyslexia CA (DDCA) are indicated on the events calendar.  Local events held by other organizations may also be listed that may be of interest to our members. DDCA does not endorse any specific program or company.
Apr
20
Thu
Dyslexia Information @ Capistrano USD CAC Meeting

@ Capistrano Unified School District
Apr 20 @ 10:30 am – 11:30 am
Lisa Klipfel will be presenting information about dyslexia and AB1369 at the Capistrano Unified School District's CAC meeting. The CAC meeting is open to the public. The business meeting will be 9:30-10:30 and parent education will began about 10:30 am.
About presenter: Lisa Klipfel, MA, is the DDCA Orange County Regional Leader. She is a marriage and family therapist, as well as an education therapist. She has been trained by the Dyslexia Training Institute to provide appropriate dyslexia intervention. Lisa has spoken at the Orange County Department of Education about AB1369, as well as several workshops throughout the county on dyslexia.
May
13
Sat
FREE – Making Math Real Seminar!

@ The Oakland Center In the Trans Pacific Centre building
May 13 @ 9:00 am – 12:00 pm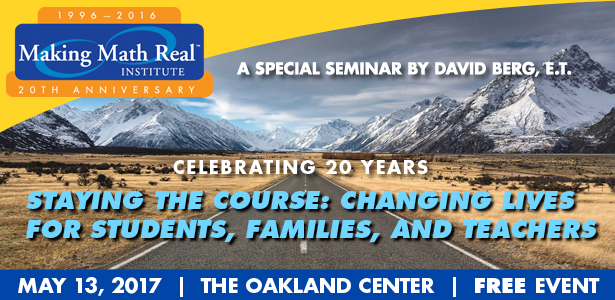 Parents and educators are invited to this dynamic and innovative free seminar presented by David Berg, educational therapist and founder/director of the Making Math Real Institute. The focus of this free seminar will be on the distinction between the current trends and programs in math classrooms and the connections to research and practice that are the basis of MMR that provide life-changing confidence and success for all students.
Experiencing pervasive confusion and failure can break the spirit of students of all ages. Feelings of anxiety, despair, and defeat can create wounding that lasts a lifetime, limiting growth, development, confidence, and future choices in life. It is the direct experience of the MMRI that ALL students can be successful in math. It is also the direct experience of the MMRI that when students of any age experience authentic success, inaccurate messages of failure are replaced with the confidence and knowledge that they, too, are smart and capable. As students develop confidence, not only do their lives change, so, too, do their families'. To help our children/students be successful in math, it is critical we understand and apply the research basis that supports how the brain does math and how students learn.
Why is my child/student so confused?
Why is my child/student losing confidence in math?
Why is my child/student becoming anxious about math?
Why is it so hard for me to help my child/student in math? 
What is the actual research that supports math success?
Come to this free seminar for the answers to these questions and to learn how MMR can changes lives.  We look forward to seeing you there.
CLICK HERE TO DOWNLOAD THE EVENT FLYER TO SHARE WITH FRIENDS & COLLEAGUES
DATE: Saturday, May 13, 2017
TIME: 9am-12pm
COST: FREE! Everyone must advance-register here. Space is limited & registration is first-come, first-served.
HOW TO REGISTER WITH MAKING MATH REAL: This special event is free and open to the public, but advance registration is mandatory. There will be NO on-site registration on the day of the event. Please advance-register here in order to reserve your space at the Free Seminar.
LOCATION:
The Oakland Center In the Trans Pacific Centre building
1000 Broadway, Suite 109
Oakland, CA 94607
DIRECTIONS & PARKING:
Please visit: www.makingmathreal.org/calendar/institute-locations
There is no childcare for this event.
Oct
9
Mon
Dyslexia & Phonological Processing 101

@ Online Event
Oct 9 @ 12:00 am – Oct 15 @ 11:45 pm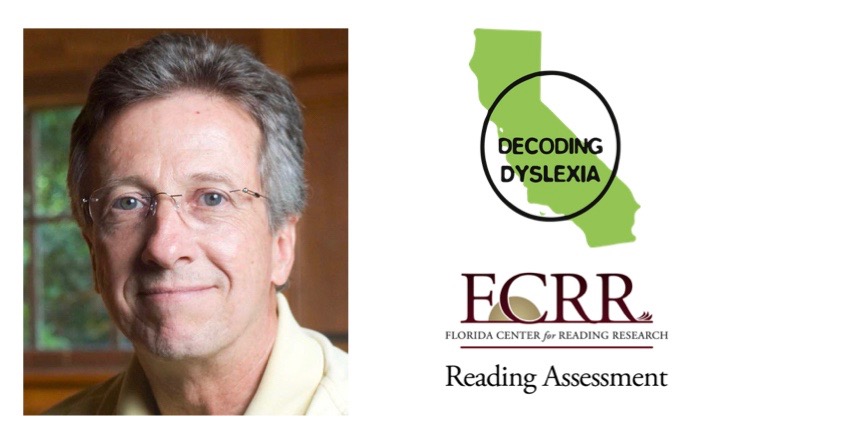 Parents, Advocates and Teachers – join us for a FREE one-hour introductory webinar on Dyslexia and Phonological Processing with an emphasis on one of the most widely used and popular assessments for reading-related phonological processing skills –
the Comprehensive Test of Phonological Processing (CTOPP-2).
---
This pre-recorded webinar will be presented by international dyslexia expert Dr. Richard Wagner, Ph.D., Principal Investigator of NICHD Florida Learning Disabilities Research Center, Associate Director, Florida Center for Reading Research and Co-Author of the CTOPP-2.  Dr. Wagner is also a member of the CA Department of Education's Dyslexia Work Group that are producing statewide dyslexia guidelines to be released in August.
This webinar is intended for parents, guardians, teachers and advocates.
Participants must pre-register for this free 1 hour webinar.
Webinar will only be available for viewing during the following specified times:
October 9th at 8:00 a.m. (PDT) through October 15th at 11:00p.m. (PDT)
On October 8th, you will receive an email with the link and a password to access the webinar.
Click HERE to download the flyer.
Sponsored By: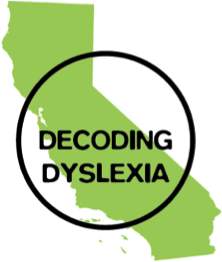 Decoding Dyslexia CA is a grassroots movement driven by California families, educators and professionals concerned with the limited access to educational interventions for dyslexia and other language-based learning disabilities within our public schools.  We aim to raise dyslexia awareness, empower families to support their children, and inform policymakers on best practices to identify, remediate, and support students with dyslexia in CA public schools.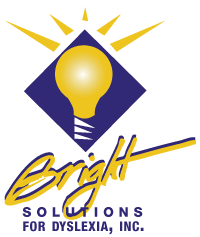 Susan Barton is the founder of Bright Solutions for Dyslexia and is recognized internationally as an expert in dyslexia.  She is in the Hall of Honor at the headquarters of the Internaitonal Dyslexia Association.  Her goal is to help parents, teachers, and others understand dyslexia so they can provide the appropriate help for dyslexics.