Events sponsored by Decoding Dyslexia CA (DDCA) are indicated on the events calendar.  Local events held by other organizations may also be listed that may be of interest to our members. DDCA does not endorse any specific program or company.
Sep
8
Fri
Chartwell School and the Academy of Orton-Gillingham Practitioners and Educators: Teacher/Tutor Training For Dyslexia and Literacy

@ Chartwell School
Sep 8 @ 8:30 am – Sep 23 @ 5:00 pm
Orton-Gillingham is a research based sequential, multisensory method proven effective for over 80 years. The 32 hour course achieves the Classroom Educator certification to prepare teachers for implementing the Orton-Gillingham approach.
The 4 day training, totaling 32 hours, will be held on the following dates:
Friday, September 8th
Saturday, September 9th
Friday, September 22nd
Saturday, September 23rd
8:30a.m. to 5:00p.m.
Continental Breakfast and Lunch will be provided.
Course will be taught by Nancy Redding, M.Ed, a Fellow-In-Training with the Association of Orton-Gillingham Practitioners and Educators.
Topics Include
Dyslexia and related reading disorders
Stages of reading development in children
Rationale of the Orton-Gillingham Approach
Phonology and phonological awareness
Basic and intermediate phonics for reading and spelling
The motor component and the writing process
General history of the English language and beginningmorphology
The lesson plan and teaching materials
Assessment and diagnostic-prescriptive teaching
About Nancy Redding:
Nancy Redding, M.Ed. is a Fellow-In-Training with AOGPE. Shehas 40 years of experience with OG, both in academic therapywith students of all ages, and in conducting teacher training.She has been a learning specialist at the elementary, highschool and community college levels. Nancy is the co-author ofPatterns for Success, an OG based reading and spelling programdesigned as a supplement to OG instruction. She has presentedat numerous workshops and conferences, and is active inInternational Dyslexia Association, both at the local and nationallevels.
The Registration Fee includes two Training Manuals. Lunch isprovided. You will need to bring some supplies for note takingand organizing information. A list of required readings andsupplies is provided upon registration.
This 4 day training does not provide a practicum, which isrequired to complete the Classroom Educator certification fromAOGPE; the practicum will be arranged separately for thosedesiring certification.
What is the Academy of Orton-GillinghamPractitioners and Educators?
The express purposes of the Academy are to:
Establish and maintain professional and ethical standardsfor practitioners and educators of the Orton-GillinghamApproach for the treatment of dyslexia.
Certify individuals who have demonstrated competence aspractitioners and educators of the Orton-GillinghamApproach
Accredit programs train Orton-Gillingham practitioners andeducators.
Accredit, in schools, clinics, and summer programs, Orton-Gillingham instruction that meets Academy standards.
Sponsor, promote and undertake research relevant toOrton-Gillingham instruction and disseminate the results ofsuch research.
Promote public awareness of the needs of children andadults with dyslexia, and of the Orton- Gillingham Approachfor the treatment of dyslexia.
Visit the AOGPE website: www.ortonacademy.org
For additonal information call Chartwell School at 394-3468 option 4
Jan
31
Thu
The Neuropsychology of Reading Disorders: An Introduction to the FAR (Webinar)
Jan 31 @ 10:00 am – 11:00 am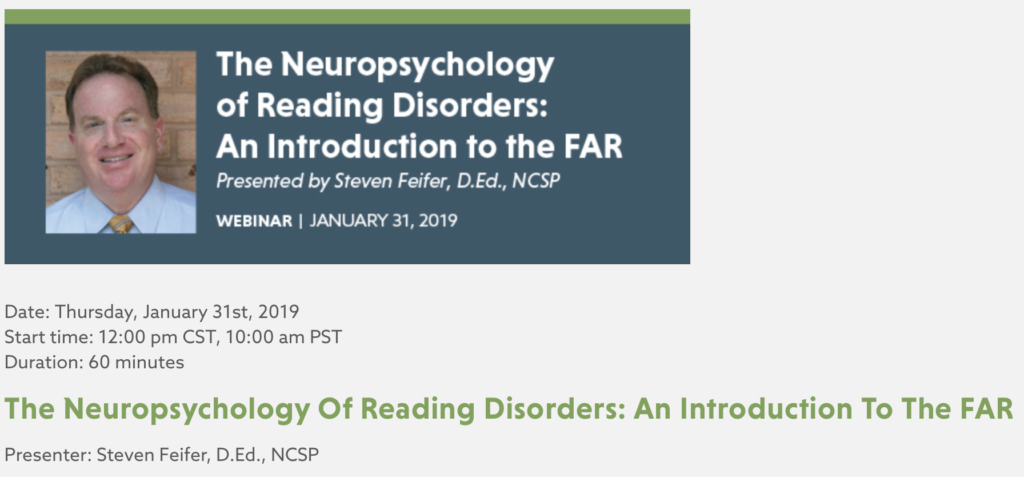 Interested in learning more about dyslexia and the Feifer Assessment of Reading (FAR)?
Learn how to differentiate "dyslexia" from other reading disorders as well as to classify developmental reading disorders into four distinct subtypes.  There will also be a discussion matching each subtype with evidence-based interventions.

This webinar is hosted by the Association of Educational Therapists (AET) and presented by Dr. Stephen G. Feifer.  $10 for AET members / $35 for non-members.  Register here:  https://www.aetonline.org/index.php/events/webinars
Sep
14
Sat
Students with Dyslexia: Essentials of Assessment

@ California State University, East Bay - Valley Business and Technology Center - 124
Sep 14 @ 8:00 am – 12:30 pm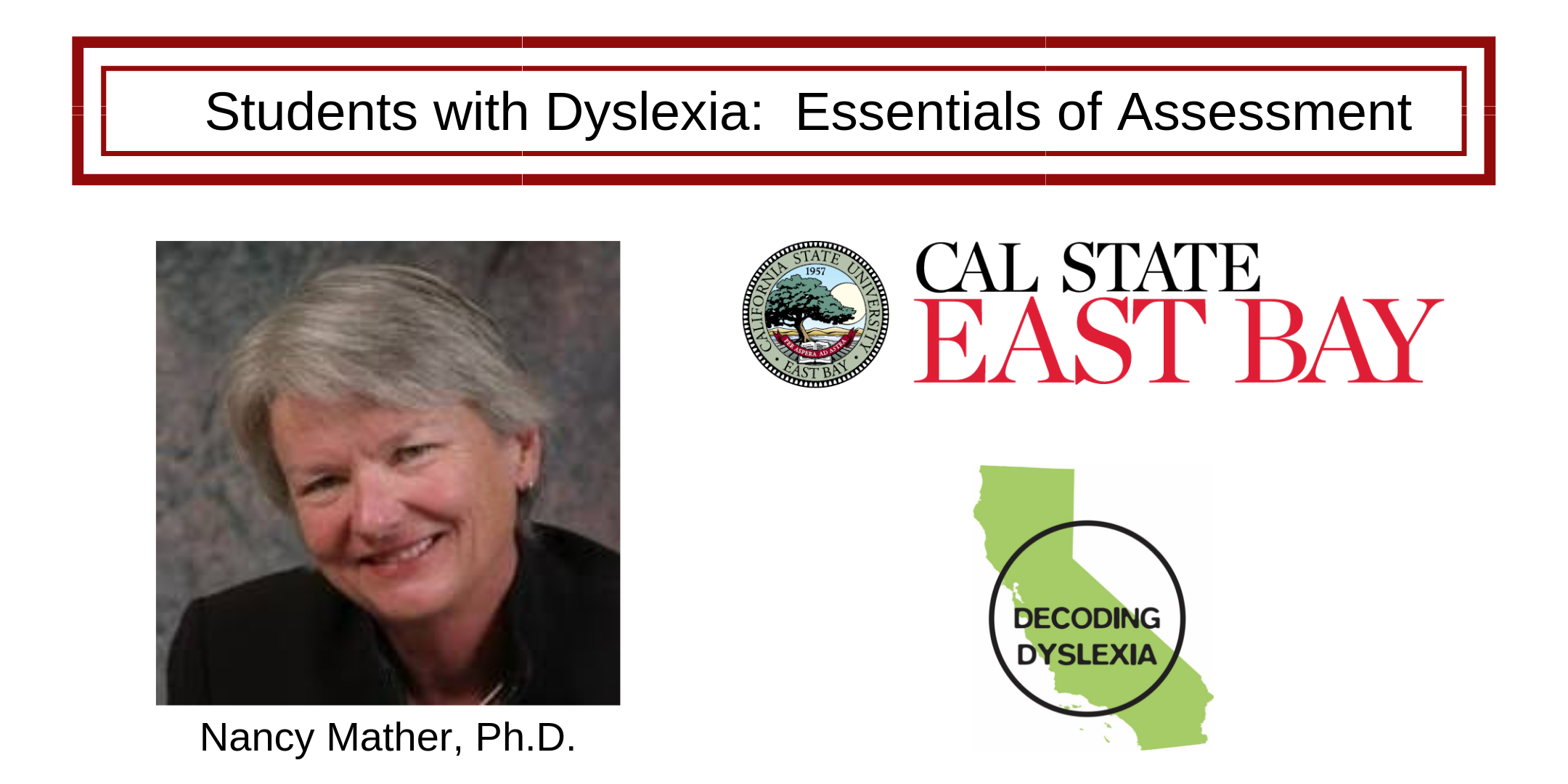 This half-day workshop will focus on the assessment of dyslexia. Dr. Mather will address the definition of dyslexia; the importance of assessing cognitive and linguistic processes, including phonological awareness, orthographic coding, processing speed, and rapid automatized naming. In addition, she will discuss several challenges inherent in the assessment of dyslexia, including: early identification, twice exceptional students, and co-occurring disorders, such as ADHD and language impairment.
This event is intended for school psychologists, speech and language professionals, resource specialists, special education and general education teachers, school administrators, educational therapists, and all credentialing candidates in these fields as well as professional advocates. This event is open to the general public, however, it should be noted that it will be somewhat technical in nature.
California State University East Bay and Decoding Dyslexia CA support best practices with respect to dyslexia as outlined by the California Dyslexia Guidelines. Net proceeds from this event will be used to host future CSUEB events to increase dyslexia awareness.
Registration opens at 8:00 a.m. Workshop is 8:30 a.m. – 12:30 p.m.
Dr. Mather's Bio:
Nancy Mather is a Professor Emerita at the University of Arizona in the Department of Disability and Psychoeducational Studies. She is a coauthor of the WJ IV and has coauthored two books on the interpretation and application of the WJ IV: Essentials of WJ IV Tests of Achievement and Woodcock-Johnson IV: Reports, Recommendations, and Strategies. She has published numerous articles, conducts workshops on assessment and instruction both nationally and internationally, and has coauthored several books linking assessment and intervention, including Learning Disabilities and Challenging Behaviors (3rd ed.), Essentials of Assessment Report Writing (2nd. ed.), and Essentials of Dyslexia: Assessment and Intervention.