Events sponsored by Decoding Dyslexia CA (DDCA) are indicated on the events calendar.  Local events held by other organizations may also be listed that may be of interest to our members. DDCA does not endorse any specific program or company.
May
13
Sat
FREE – Making Math Real Seminar!

@ The Oakland Center In the Trans Pacific Centre building
May 13 @ 9:00 am – 12:00 pm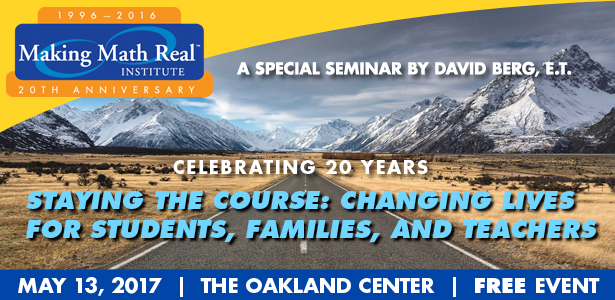 Parents and educators are invited to this dynamic and innovative free seminar presented by David Berg, educational therapist and founder/director of the Making Math Real Institute. The focus of this free seminar will be on the distinction between the current trends and programs in math classrooms and the connections to research and practice that are the basis of MMR that provide life-changing confidence and success for all students.
Experiencing pervasive confusion and failure can break the spirit of students of all ages. Feelings of anxiety, despair, and defeat can create wounding that lasts a lifetime, limiting growth, development, confidence, and future choices in life. It is the direct experience of the MMRI that ALL students can be successful in math. It is also the direct experience of the MMRI that when students of any age experience authentic success, inaccurate messages of failure are replaced with the confidence and knowledge that they, too, are smart and capable. As students develop confidence, not only do their lives change, so, too, do their families'. To help our children/students be successful in math, it is critical we understand and apply the research basis that supports how the brain does math and how students learn.
Why is my child/student so confused?
Why is my child/student losing confidence in math?
Why is my child/student becoming anxious about math?
Why is it so hard for me to help my child/student in math? 
What is the actual research that supports math success?
Come to this free seminar for the answers to these questions and to learn how MMR can changes lives.  We look forward to seeing you there.
CLICK HERE TO DOWNLOAD THE EVENT FLYER TO SHARE WITH FRIENDS & COLLEAGUES
DATE: Saturday, May 13, 2017
TIME: 9am-12pm
COST: FREE! Everyone must advance-register here. Space is limited & registration is first-come, first-served.
HOW TO REGISTER WITH MAKING MATH REAL: This special event is free and open to the public, but advance registration is mandatory. There will be NO on-site registration on the day of the event. Please advance-register here in order to reserve your space at the Free Seminar.
LOCATION:
The Oakland Center In the Trans Pacific Centre building
1000 Broadway, Suite 109
Oakland, CA 94607
DIRECTIONS & PARKING:
Please visit: www.makingmathreal.org/calendar/institute-locations
There is no childcare for this event.
Oct
21
Sat
Using the CTOPP-2 to Assess Phonological Processing for Reading Disability/Dyslexia Evaluations

@ Chan Family Health Science Learning Center, PHS 110-111
Oct 21 @ 9:00 am – 12:00 pm
Speech-Language Pathology Continuing Education Course: Using the CTOPP-2 to Assess Phonological Processing for Reading Disability/Dyslexia Evaluations
Speech-Language Pathology alumni and friends are invited to this special Homecoming weekend continuing education program. During this three-hour program, speaker Richard "Rick" K. Wagner, PhD, a professor of psychology at Florida State University, will dispel old myths and present new truths about dyslexia, followed by a brief review of the just-released California dyslexia guidelines. Then, use of the CTOPP-2 for assessing phonological processing in the context of reading disability/dyslexia evaluations will be covered.
All participants will receive a certificate of attendance and a continental breakfast.
RSVP by October 18
Please feel free to share this invitation with your colleagues.
Participants are invited to stay on campus and attend other Homecoming activities. For a complete listing of events visit: pacific.edu/homecoming